Surefire 6P Surefire Lights Surefire 6P
6P Original 6PX Tactical 6P Original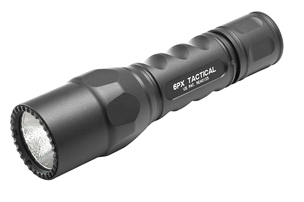 FEATURES
Virtually indestructible LED emitter regulated to maximize light output and runtime
Precision micro-textured reflector creates smooth, optimized beam
Tough polycarbonate window resists impact
High-strength aerospace aluminum body, Mil-Spec hard-anodized for extreme durability
Tactical tailcap switch—press for momentary-on, twist for constant-on
Weatherproof—O-ring and gasket sealed
Includes high-energy 123A batteries with 10-year shelf life
Specifications
| | | | |
| --- | --- | --- | --- |
| Max Output | 200 | .0 | lumens |
| Tactical Runtime* | 2 | .0 | hours |
| Length | 5 | .20 | inches |
| Bezel Diameter | 1 | .25 | inches |
| Weight w/Batteries | 5 | .2 | ounces |
| Batteries | 2 | | 123A |
FREE 10 Pack CR123A with this light.
6PX Tactical

6PX-A-BK
The 6PX Tactical is just that—a flashlight designed specifically for tactical use. Providing simplicity of operation and tremendous illuminating power in a small package, it uses a high-efficiency LED—virtually immune to failure since there's no filament to burn out or break—to generate a brilliant, penetrating, perfectly pre-focused 200-lumen beam. The 6PX is activated by our classic tactical tailcap switch—press for momentary-on, twist for constant-on. The high-strength aerospace aluminum body is smoothly sculpted for a secure grip and is hard anodized to military specifications for extreme resistance to scratches, abrasion, and corrosion. A polycarbonate micro-textured reflector delivers a comparatively wider beam with generous peripheral light. We also make a dual-output version of this light with a two-stage click-type tailcap switch, the 6PX Pro.
FREE 10 Pack CR123A with this light.
$115.00 Sold Out Black
Extra CR123A Here