HDS EDC LED flashlight HDS EDC LED flashlight HDS EDC LED flashlight HDS EDC LED flashlight HDS EDC LED flashlight HDS EDC LED flashlight HDS EDC LED flashlight HDS EDC LED flashlight HDS EDC LED flashlight HDS EDC LED flashlight
EDC LE
TM

25

0 lumens Flashlight
(EDC-L1B-
25

0)
The light that gets you home
SM

The EDC LE 250 lumens flashlight (EDC-L1B-250) is a superior lighting tool for law enforcement and tactical flashlight users. The light turns on to an intermediate tactical brightness for long battery life and economical operation but provides instant maximum output for tactical advantage. There is also a medium brightness level for navigating or filling out paperwork as well as a Tactical Strobe for making sure you are seen in traffic situations. And the light is conveniently small and light weight so you can carry it with you wherever you go.
The EDC LE 250 lumens flashlight provides the following features:
Elegant single button interface - simple access to 4 preset brightness settings.
Lowest cost of ownership - this light is easy on the battery budget.
Turns on to: 110 lumens, runtime: 2.75 hours (tactical), 3.25 hours (ANSI).
Press-and-hold: 250 lumens, runtime: 1.65 hours (tactical), 2.0 hours (ANSI).
Double-click: 9 lumens, runtime: 30 hours (ANSI).
Triple-click: Tactical Strobe, runtime: 6.75 hours (tactical), 9 hours (ANSI).
Potted electronics for the ultimate in reliability under extreme conditions.
Sealed gold-plated switch for maximum reliability.
Anti-damage battery compartment protects battery during extreme abuse.
Nearly unbreakable ultra clear glass lens with anti-reflective coatings.
Durable Acme threads used throughout.
Constant brightness through constant power regulation.
Elegant low battery warning.
Designed for both regular lithium batteries and rechargeable Li-ion batteries. Protects rechargeable batteries from over-discharge and sudden death.
Full thermal management - never gets too hot.
Aerospace aluminum body protected with black military Type 3 hard anodize. Stainless steel crenelated bezel with black military AlTiN finish.
Single 123 battery.
May be customized for special applications.
Pocket clip, bezel down carry, black.
Water/dust proof - IP67, 20m (66 feet) of water.
Dimensions: Ø 25.4mm x 97mm (Ø 1" x 3.8")
Weight: 102g (3.6oz) including battery.
Click here for additional details.
Each HDS Light ships with a
FREE 4 Pack of USA made CR123A batteries!!!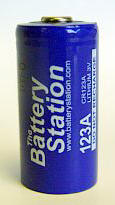 See CR123A battery/case combos here.

LED Flashlights The most incredible flashlights!!! No bulb to ever burn out again.